Proudly Serving The Kingston Community For Over 50 Years
WELCOME TO ANDERSON DENTISTRY

Anderson Dentistry is proud to be a family owned business that has served the Kingston community for over 50 years with an unwavering commitment to excellence in family, cosmetic and restorative dentistry. Our welcoming and friendly staff are very good at creating a comfortable and relaxed atmosphere for patients of all ages. Led by the clinical expertise of Dr. Scott Anderson, we provide personalized dental treatments that cater to your needs, well-being and budget.
Anderson Dentistry is your dental office in the heart of downtown Kingston. Our philosophy has always been to build long-term patient relationships based on trust. Our whole team focuses on educating and explaining the treatment options so that every patient can make an informed decision and feel comfortable with their treatment recommendations. We are not interested in "selling" any service to our patients, but rather to provide the best treatment to ensure optimal oral health and wellness. We welcome the opportunity to be your oral healthcare providers in Kingston, Ontario right across the street from St. George Cathedral. We are always accepting new patients and referrals!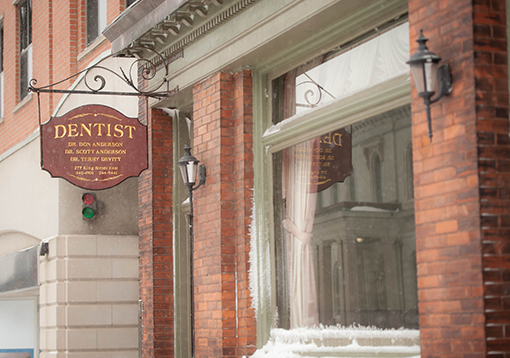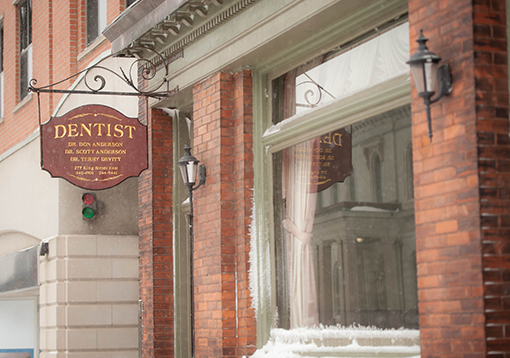 Personalized Dental Care
Enjoy dentistry tailored to your personal needs.  We take time to connect with our patients and provide a holistic approach second to none. 

Comprehensive Dental Services
 Our team uses state-of-the-art dental procedures, sterilization and techniques to give you the best dentistry has to offer.

Exceptional Dental Results
We are committed to excellence in family, cosmetic and restorative dentistry to serve you best.

Experienced Dental Team
We have served the Kingston community for over 50 years and our reputation as a top dental office is well established.

Family Oriented
We love to make you smile from start to finish. We provide kind and gentle care to all age groups.

Emergency Dental Care
 We provide our patients with emergency care as needed and on the same day if our schedule allows.


Scott Anderson is a good honest dentist who only recommends required dental work. I highly recommend him.
☆ ☆ ☆ ☆ ☆
"I was a patient here when I lived in Kingston, and it is one of the best places I have gone for dentistry.
☆ ☆ ☆ ☆ ☆
"Have been going to Don and Scott for many many years, they know what they are doing and get to the root of the problem if you are having one. Very affordable and always recommend!
☆ ☆ ☆ ☆ ☆
VISIT US
---
Dr. Scott Anderson
277 King St. East,
Kingston, ON
K7L 3B1
HOURS OF OPERATION
---
Monday: 8:30 am - 5:00 pm
Tuesday: 8:30 am - 5:00 pm
Wednesday: 8:30 am - 5:00 pm
Thursday: 8:30 am - 5:00 pm
Friday: 8:30 am - 5:00 pm
Saturday: Closed
Sunday: Closed