At Anderson Dentistry,we want to make sure your smile is healthy. We provide various cosmetic treatments to help correct your teeth and brighten your smile!
Do You Want to Improve Your Smile?
Everyone wants teeth that look beautiful and natural. But, when breaks, chips, and discolouration's happen, then an experienced cosmetic dentist, like Dr. Scott Anderson, is what you need. More and more people today are admitting how impactful having a healthy, beautiful smile can be to their self-confidence and professional success. When you think of ways to improve your smile, you might first think of whitening your teeth, but cosmetic dentistry can also help you improve the look and function of your teeth.
Research shows that professional teeth whitening is safer and more effective than do-it-yourself remedies. It is perhaps the most popular cosmetic dentistry procedure that people ask for at Anderson Dentistry for a brightened stain-free smile. A dental cleaning is strongly recommended before this procedure to achieve the best possible results.
What Foods
 

Stain

 

Your

 

Teeth?
Soda, Cola, and Other Carbonated Drinks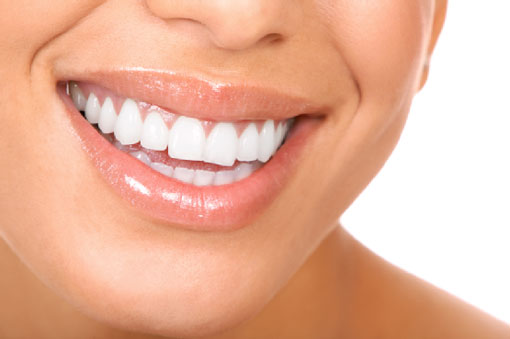 Porcelain veneers look natural.
Contours and color of the porcelain shell look similar or mimics your natural tooth enamel.
They solve many cosmetic dental issues.
Missing teeth, misshapen teeth, gaps and stained teeth.
They are long lasting solution.
Porcelain provides a stain free and long lasting solution.
They are easy to maintain.
Brushing twice a day and flossing daily.
They are less invasive.
Less invasive than dental crowns; procedure often requires no anaesthesia.
What Are Porcelain Veneers?
Porcelain Veneers are used for fixing cosmetic dentistry concerns and for filling in gaps and spaces where the smile could use a bit of extra help.
Veneers can change the appearance of one's smile from ordinary to extra-ordinary in as little as two dental visits.  In modern cosmetic dentistry, porcelain veneers are comprised of a thin piece of porcelain that is very is hard and resistant. Once they are cemented to the teeth, the thin piece of porcelain gains its strength and mimics the appearance of the enamel found on a natural tooth. Porcelain has a bit of a translucent property that helps reflect light like teeth, which can't be said for composite resin. They also can be made in a variety of colors to match a patient's smile.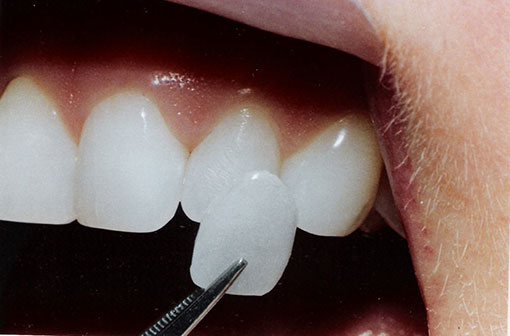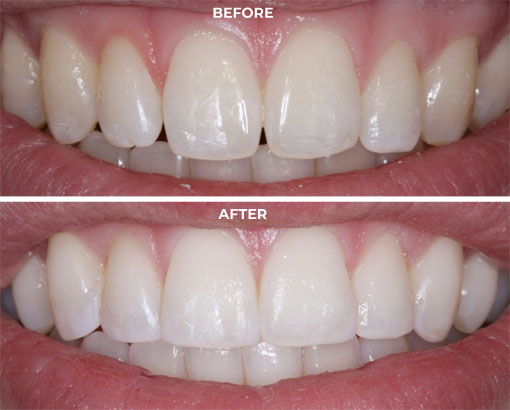 Dental Bonding is a cosmetic dentistry procedure that covers dental flaws by placing a durable tooth-colored resin composite on your teeth to make desired changes in shape, contour and color. It is most often completed in one visit and is considered to be a very conservative and versatile treatment. Dr. Scott Anderson has the cosmetic dentistry expertise and knowledge to match your natural teeth and the bonding material to achieve exceptional results.
What Are The Benefits Of Dental Bonding?
Little to no removal of enamel, retaining the health and natural structure of your tooth.
Less extensive procedure than restorations like porcelain veneers or dental crowns.
Can usually be completed in one appointment.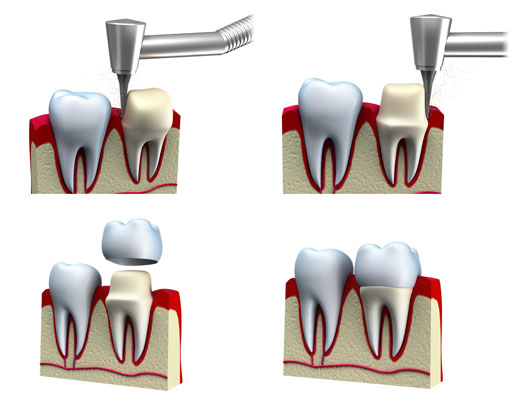 Do you have badly damaged teeth that need to be restored? Years of wear and tear on your teeth can be revealed through cracks, chips, or discoloration. Cosmetic dentistry procedures such as bonding or porcelain veneers are an excellent solution to cover the damage and enhance the look of your teeth. For more severe damage such as badly decayed or broken teeth, a dental crown provides a natural-looking tooth restoration that offers important structure and support.
What are the benefits of getting a dental crown?
Restoring teeth to their natural shape and size.
Covering a dental implant.
Protecting a weak tooth from breaking or restoring a broken tooth.
Covering discoloured teeth.
Whether you have a few tooth gaps or a mouthful of missing teeth, replacing any missing teeth will impact the way you eat, speak and smile. The opposite is also true, as missing teeth affect how your teeth come together, how you speak and how confidently you smile. Dental Bridges can restore your smile with natural looking tooth restorations.
What Are the
 

Benefits of Dental Bridges?
Restore the ability to properly chew and speak.
Maintain the shape of your face.
Distribute the forces in your bite properly by replacing missing teeth.
Prevent remaining teeth from drifting out of position.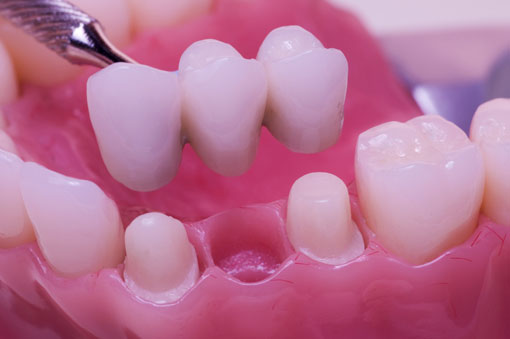 When Are Crown and Bridge Restorations Needed?
Dental Crowns and Bridges are teeth prosthesis that are very important in various situations. A Dental Crown is a "cap" cemented onto an existing tooth that usually covers the portion of your tooth above the gum line. In effect, the crown becomes your tooth's new outer surface. Crowns can be made of porcelain, metal, or both. Porcelain crowns are most often preferred because they mimic the translucency of natural teeth and are very strong. A Dental Bridge may be used to replace missing teeth, help maintain the shape of your face, and alleviate stress on your bite. Lets us take a brief look at when they best employed by Dr. Scott Anderson:
When Replacing Missing Teeth
Crown and Bridge are great for replacing teeth to give a patient proper function and a full smile.
After Root Canal Treatment
Teeth that undergo root canal treatment have are left with a cavity. The teeth at the rear are subject to much greater force than those at the front.
As Part of Dental Implant Treatment
Dental implants are gaining increasing popularity in recent years and a dental crown, bridge or denture is always used to provide a strong teeth-like surface.
For Cosmetic & Restorative Dentistry Reasons
Porcelain crowns maybe chosen for patients who want to cover a chipped or fractured tooth. Although veneers are the standard choice for aesthetic improvements for chipped or slightly decayed teeth, Dr. Scott Anderson may choose a crown if the tooth is deemed weak or fractured. Also, if the patient is someone who is a habitual clencher and grinder, a veneer might not hold on and in such situations porcelain crowns may be suggested.
Most people have fillings in their mouths of one sort or another.  Many people are more conscious about the way they look, so they don't want silver fillings that show when they laugh or smile. Nowadays, Kingston cosmetic dentist, Dr. Scott Anderson can make tooth fillings that look and feel like your natural teeth.
Are white fillings as good as silver amalgam fillings?
White, tooth colored fillings are comparable to silver amalgam in strength and durability. The life expectancy of a white filling can depend greatly on where it is in your mouth and how heavily your teeth come together when you bite. Your dental team can advise you on how long your tooth fillings should last.
Should I replace my amalgam fillings with white ones?
It is usually best to change fillings only when your dental team decides that an old filling needs replacing. If so, you can ask to have it replaced in a tooth-colored material. 


Contact us today to learn more about how we can improve your oral health and enhance your smile. We look forward to meeting with you!

VISIT US
---
Dr. Scott Anderson
277 King St. East,
Kingston, ON
K7L 3B1
HOURS OF OPERATION
---
Monday: 8:30 am - 5:00 pm
Tuesday: 8:30 am - 5:00 pm
Wednesday: 8:30 am - 5:00 pm
Thursday: 8:30 am - 5:00 pm
Friday: 8:30 am - 5:00 pm
Saturday: Closed
Sunday: Closed